Is it time for a Timex smartwatch?
Timex is a brand we all recognize. "Takes a Licking and keeps on Ticking" is one of the best advertising slogans ever. Timex's parent company has been making watches since 1854. With it's rich heritage in traditional wheels and gears watches, Timex was one of the first to create and develop digital watches under the Ironman line, named after the Ironman Championship Series.
With smart wearables and smartwatches becoming increasingly trendy, Timex doesn't want to be left out of the game. Some traditional watch makers are beginning to add smart functionalities to the old analog form, and this is where the Timex Metropolitan+ (it has been rebranded as IQ+ Move Metro since launch) smartwatch comes in. Let me tell you, other than the fact that the watch is elegant and made from high quality materials, it's surprisingly simplistic and exactly what you might be looking for.
To be frank, the Metropolitan+ is not really a smartwatch. It's an analog watch activity tracker, aka, analog watch that has pedometer functionalities with data that you can sync to your phone app (Timex Connected). It's a hybrid or analog smartwatch comparable to the Fossil Q line.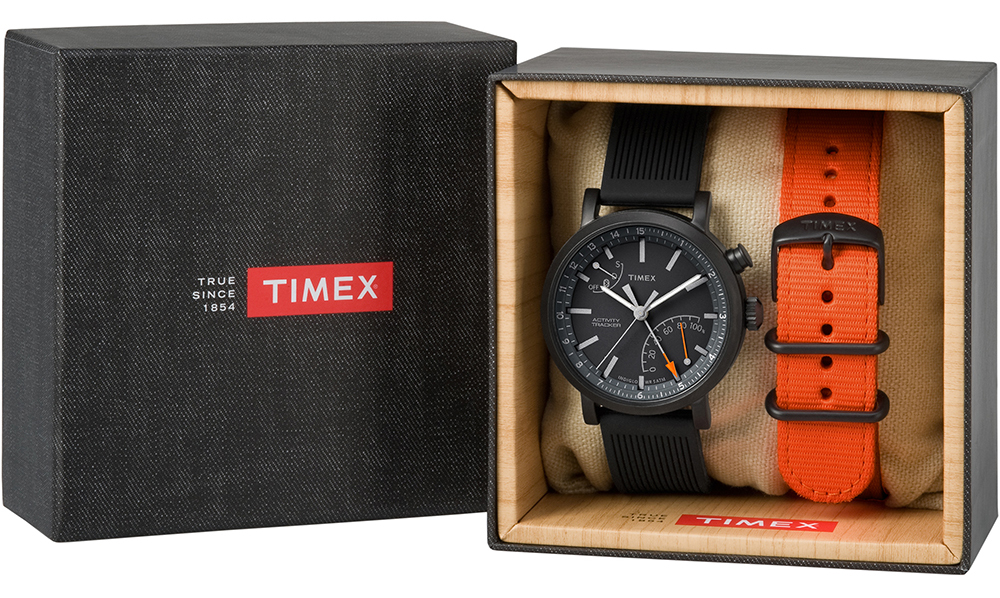 Specs
Attachment Buckle/Clasp Type: Buckle
Case Height: 12 mm
Case Lug Width: 20 mm
Case Width: 42 mm
Case Material: Brass
Case Back: Stainless Steel
Case Finish: Brushed/Polished
Crystal/Lens: Mineral Glass
Watch Movement: Quartz Analog
Water Resist: 50 meters
Battery Type: CR 2025
Battery Life
The biggest negative and complaint about smart watches is its battery life. When Apple watch and Moto 360 barely last you a day, you have to constantly worry about if your smartwatch have enough juice. Here is another baffling question- how do you track sleep if you have to charge it at night? It just doesn't seem practical. Timex's Metropolitan+ watch uses a regular watch battery. CR 2025 to be exact. The battery should last you at least a year. Timex claims it can last you up to a year and a half. Its mobile app will tell you when the battery is low. Also, the seconds ticker will tick every 2 seconds instead of one to save energy when the battery gets low. That's another indicator you can use before you have to change the battery.
Notifications
There are none. That's why it's not a smartwatch. If you read many smartwatch reviews, users are constantly complaining about how annoying notifications can get. While it may sound like a good idea on paper, it's too much for some people. Do you really want your wrist to ding or vibrate every few minutes. It's definitely not for everyone. Some people say they turn off all notifications on their smartwatches.
Apps and Watch Faces
It's an analog watch so there are no watch apps or watch faces. Sorry to disappoint you, but do you really want to change the watchface from it's simple yet elegant style? The original Timex's Metropolitan+ came in 2 flavors, black or black/silvertone. Since then, 3 additional colors have been released, including brown/tan, dark brown/gray and silver-tone bracelet. Band aside, the watch itself is brilliantly designed and looks amazing. Many people love the look of a traditional watch face. If you're one of those, you will not be disappointed. The Timex smartphone app for your iPhone or Android phone is where you can view, sync your daily activities as well as receive firmware updates. It's pretty barebones and simple. Nothing fancy. The app interface could use an upgrade. You have to remember to sync it at least every 5 days as the watch only keeps 5 days worth of data.
Version 4 requires Android 4.4 or later (release date 10/27/2016), and iOs 8.0 or later (released date 10/28/2016)
Version 4 release includes an updated app interface and sleep tracking functionality. Finally!
Version 4.6.2.1 (released on December 22, 2017) on Android devices include Google Fit integration. Your steps activity data can now be synced to your Google Fit profile on an Android phone or tablet.
Activity Tracking (pedometer)
This is where new technology meets the old. Having added this functionality, you're able to track your steps and fitness goals daily. Many smartwatches and of course fitness bands like Fitbit have made fitness tracking very popular. In fact, it's probably one of the primary reasons people want a smartwatch or fitness band. This watch does the basics in terms of tracking your daily steps. If you don't mind not tracking your running status, then this is all you really need. It uses several analog hands to show you your daily progress. It's extremely well designed and simple to read. To set the watch to track steps, just press the top right button until the activity sub-dial shows S. The watch will display your current daily steps with the hand that has the red arrow. You can also view what that is in terms of percentage to your daily set goals in which you set on your app. You can switch to D for distance by pressing the top right button again. When you need to sync it with your phone app, press the same button until the dial moves to the bluetooth icon. It will automatically move back to your regular tracking once you have synced your data.
Sleep Tracking
The much anticipated sleep metrics was released in late October. You can set your sleep time or choose the all day option. For example, you can set to go to sleep at 10 pm and wake at 6am. The metrics are based on your arm movement so if you're laying in bed and watching tv, it'll probably some of that time as sleep. The sleep tracker does show a range of light to deep sleep depending on your movement. Again, it's more directional and not as accurate as it can be. Hope this data improves over time.
Water Resistance
It's water resistant up to 50 meters. This is often an overlooked feature for smartwatches. If you're a normal person living a normal life, you want your wearable to be at least water resistant. Normal activities like washing your hands or getting caught in a rain storm can get your watch wet. But don't wear it in the pool as it's not waterproof.
What It Has
Great looks
Accurate time
Always-on (it's analog!)
Long battery life
Indiglo backlight
Steps and distance tracking
Bluetooth connection
Basic app for iPhone and Android
What It Doesn't Have
Notifications
GPS
Community sharing
Watchfaces
Watch apps (Texting, messaging, weather, news, etc)
If you need a great looking semi-smartwatch to tell time and track your steps through out the day, then the Timex Metropolitan+ is perfect for you. If you want a true smartwatch with all the bells and whistles, then keep looking. What we've found is while a smartwatch sounds great on paper, it can be pretty impractical and not always user friendly. For a great smartwatch choice, we recommend the Pebble Time (more on this later).
The Metropolitan+ watch comes in two flavors, black with black and orange nylon straps or silver with black leather straps. You also have the option to purchase other straps from Timex or use any standard 20mm strap.
Troubleshooting Tips
How do you reset the activity tracking red arrow?
Pull the crown out to the outer position. The upper and lower hands will move in a counter clock-wise direction and automatically calibrate. The 4th center hand will make up to one revolution and stop at 12 o'clock.
If the 4th center hand does not point to 12 o'clock then, press button A to move the hand in a clockwise direction until it points to 12 o'clock. Pressing and holding button A will make the hand move at a fast rate.
Push crown in to the closed position when finished.
How do you reset or reboot the watch if the app gives you a firmware updating error?
Press and hold the crown and PB2 (Pusher Button A) at the same time until the center hand does a full revolution.
Then uninstall the app, turn off the WiFi on the phone, turn off the Bluetooth on the phone, then turn off the phone.
Turn the phone on, use your carrier (T-Mobile, ATT, Verizon etc..) data and download the app.
Turn on the Bluetooth on the phone, open the Timex Connected app and choose the Metropolitan+.
Hold down the Pusher A button on the watch and place the watch on Bluetooth.
On the app, follow the pairing steps from the wizard and synchronize the phone and the watch.
What to Read Next